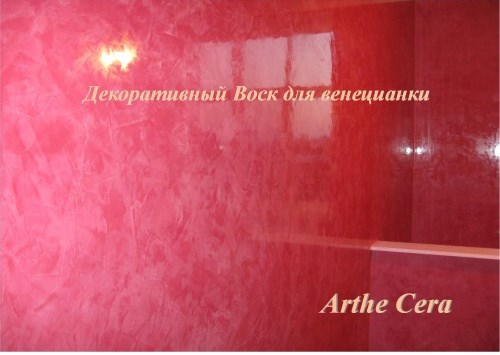 A transparent water-based wax
Paste wax transparent water-based, designed to protect Venice and textured plaster – both synthetic and manufactured on the basis of lime. It gives shine glossy surface of the plaster, washable and improves its water-repellent properties, making the painted surface more uniform. ARTHE CERA can be tinted.
STRUCTURE
Specific waxes aqueous emulsion nontoxic additives.
TECHNICAL DATA
Specific weight 1,079 kg / l +/- 1%
Viscosity thixotropic paste
Dry to touch 2 hours at 20º C.
Application temperature + 5º C – + 30º C
Consumption 20-25 m / l
Color transparent
Packaging plastic containers from 750 ml to 4 l
Storage 24 months in unopened containers at
no abrupt changes in temperature