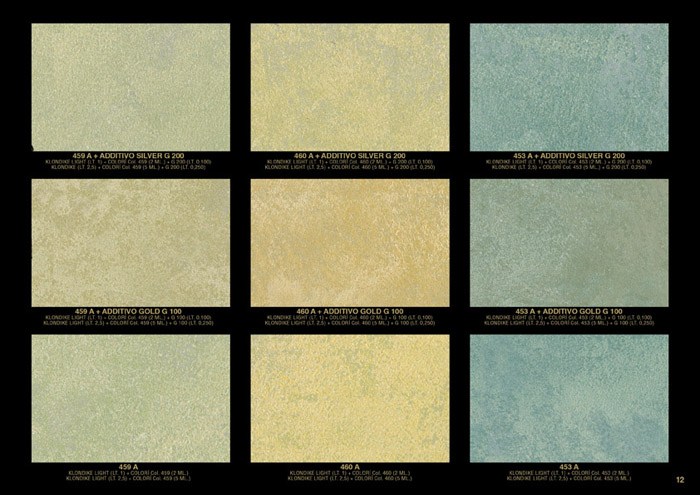 This water-based paint for interior coatings, typically modern and elegant. It is applied to various surfaces. KLONDIKE LIGHT allows you to create ultra-modern interiors with unique color effects and undertones. Paint surface finishing contains valuable forged metal particles and increases the gold, silver effect and at the same time velvety. The resulting outcome is perfect: the interiors with metal walls are transformed into real avant-garde room.
• classic effect (spatula) extends Klondike stainless steel spatula PV43 irregular movement, 15-20 cm long in all directions, making the area the application layer bit wrong Klondike. After 5-6 hours at 20 ° C proceeds to use a second layer as the first. Then expect a further 1 hour at a temperature of about 20 degrees Celsius and convey the same PV 43 spatula, but not material movements, which have 15-20 cm long, irregular, with gentle pressure, the particles of the material to break down, creating the effect of a dark spot color or lighter.
• The effect of Classic (brush + spatula) Classic effect can be achieved by following the cycle Application: brush material is loaded properly PV 76 and extends from 8-15 cm long irregular movements in all directions, alternating from phase to right or vice versa, from the top down, and vice versa , leaving a layer of the product is more or less irregular. After about 20 minutes at 20 degrees Celsius, stretching the fabric so PV43 spatula, lisând site in all directions. After 5-6 hours at 20 ° C PV 76 brush, apply a second layer so that the first Klondike. Waiting for about 1 hour at 20 ° C and passed at the same spatula 43 minutes, but no movement of the material is not of 15-20 cm in length, irregular, with gentle pressure, so that the particles of material to the gap, creating the effect of dark patches or lighter color.